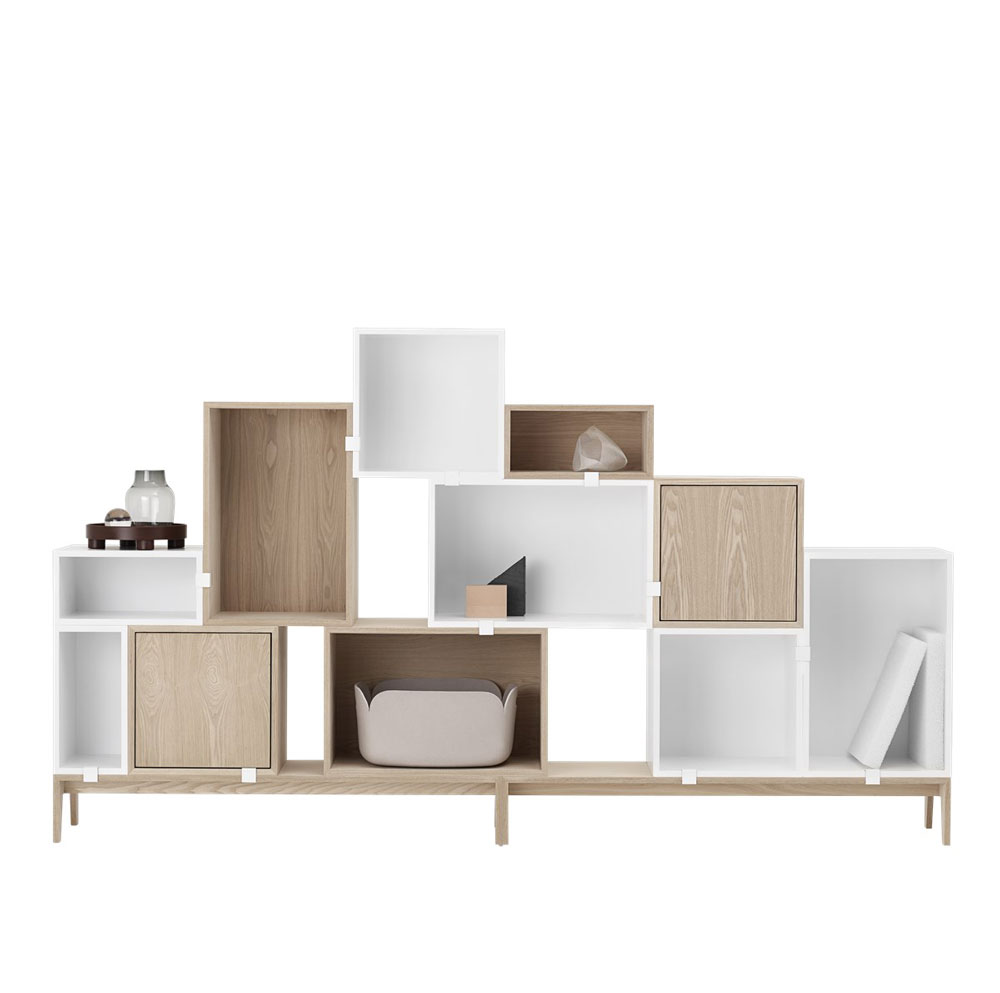 Stacked Storage System
By Muuto
Design should always have a characteristic expression while serving an obvious function. I found that shelving systems often only fulfilled one of the two and from there grew the idea for Stacked. It prompted me to design a system of modules in three sizes that can be arranged and rearranged in any way you'd like, making for a unique storage solution. Stacked is a simple and efficient storage system that can be personalised to the needs of your home.

JULIEN DE SMEDT ON THE DESIGN
Being both versatile and functional, the Stacked Storage System can be arranged and rearranged for the exact configuration that you'd like, whether it be as shelving setups, sideboards, bookcases or side table. The design can easily be refreshed by playing around with the space between the modules or mounting the modules with backboard directly onto the wall.
The Stacked Storage is available in 10 configurations (see image). Please send an enquire below for pricing and ordering.
Additionally, you may also use the configurator to design your own Stacked setup on stackedconfigurator.muuto.com. Please email your design to Miko for a quote.
Copenhagen-based Julien De Smedt is the co-founder of PLOT and an internationally acclaimed architect. He is recognised for his ability to always take a fresh look at things. His works challenge conventions and many have been awarded.
Dimensions
Large: 654 mm (length) x 350 mm (depth) x 436 mm (height).
Medium: 436 mm (length) x 350 mm (depth) x 436 mm (height).
Small: 218 mm (length) x 350 mm (depth) x 436 mm (height).
Podium: 1310 mm (length) x 350 (depth) x 200 mm (height).
Specifications
Four colours are available:
Modules are available with a coloured backboard:
Oak Frame/Light Grey

Oak Frame/Dusty Green
Every side is cut out of MDF, then assembled, glued together and painted with three layers of PU lacquer. Ash cubes: Every side is cut out of MDF with ash veneer, then assembled and glued together.
Each Stacked module comes with two clips. White modules come with two white clips. Oak modules come with two light grey clips. Light Grey modules come with two light grey clips. Grey modules comes with two grey clips. Extra clips are sold in boxes of 5 clips. Choose between black, white, light grey, grey and dusty green.
Lead time
A lead time of 12–14 weeks applies, however please contact us for urgent orders.
Ordering
We would love to help create the perfect sofa for you. Please enquire about this product using the below form, or contact us directly on 02 6280 9664. We'd love for you to come and visit the Miko Designs Canberra showroom and view our wide range of furniture and lighting at 1/72 Barrier Street, Fyshwick ACT.
To allow us to customise this product to your own needs, this sofa is unfortunately not available to purchase online.
Enquire about Muuto's Stacked Storage System