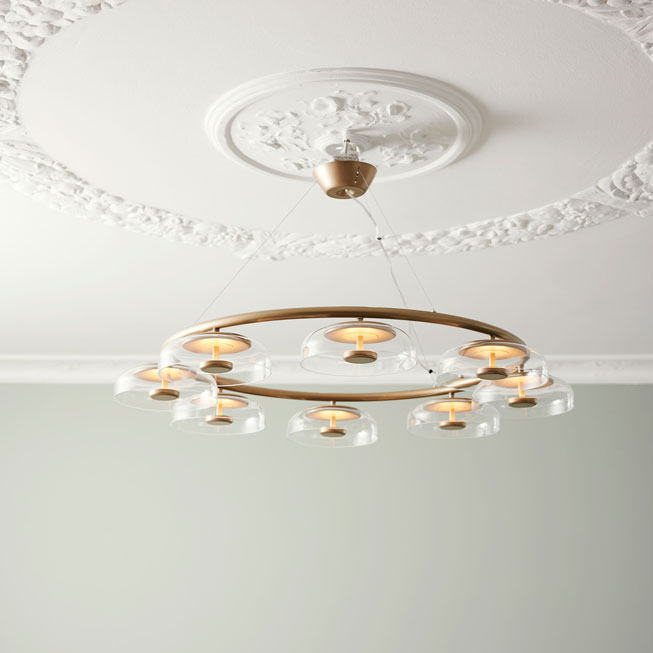 Blossi 8
By Nuura.
Designed by Sofie Refer.
Blossi 8 in mouth blown clear glass and Nordic Gold metal finish.
Inspired by the golden light during the Nordic fall, the Blossi Collection is designed to give an indirect and soft light.
Blossi 8 is a statement chandelier, suitable for both domestic and public spaces. The chandelier is perfect for a living space or entry where you aren't awarded the luxury of high-ceilings.
A special recessed LED provides a soft light reflected in the metallic finish of the shade. The Blossi Collection has beautifully rounded glass lampshades that complete the soft appearance.
The Blossi collection has a wide variety of uses and is suitable for both domestic and public spaces.
The Blossi collection is made with the newest LED technology. A special developed LED disc is placed, so the light reflects in the mouth-blown glass shade and the golden finish metal which spreads a soft and sophisticated indirect light.
The Blossi collection includes the following products:
Dimensions
1,030 mm (diameter) and 450 mm (height).
Ceiling plate: 148 mm (diameter) x 50 mm (depth) .
Flex: 250 cm (length).
Specifications
Colour:
Glass: Clear

Metal: Nordic Gold

Cable: Clear
Materials:
Powder coated metal

Mouth-blown glass

Plastic cable
Environment: Indoor. Suitable for domestic and public spaces.
Light source: 4W Integrated LED.
All products can be fitted with a trailing edge dimmer.
Note
All lighting must be installed by a qualified electrician.
Enquire about Nuura's Blossi 8
Nuura's Blossi Collection