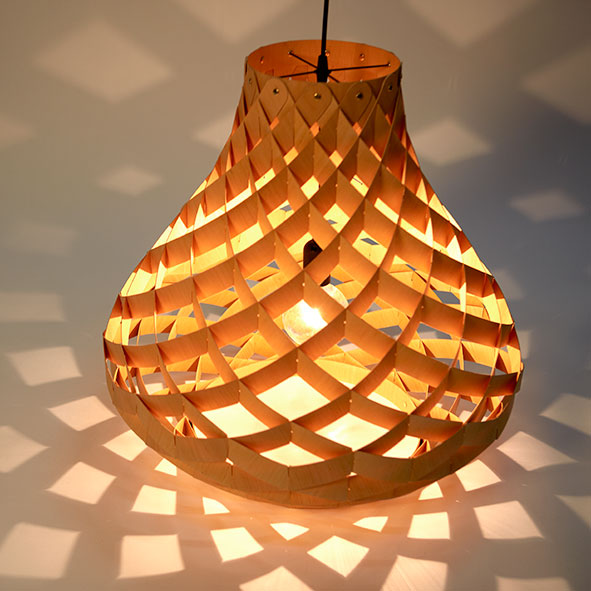 Weave Pendant
by Copper Design.
"A digital representation of an ancient mathematical design process, basket weaving, underpinned the 'Weave' lighting range; a true amalgamation of modern manufacturing and artisan techniques."
Weave pendants are the first of a series of lamps born through the amalgamation of traditional craft processes and modern CAD development techniques.
Basket weaving was fused with computer surface-modelling to create a complex self supporting 3D woven structure requiring no glues or adhesives to hold its form.
The Weave pendant is created in bamboo, one of the worlds most renewable resources and a sustainable timber alternative.
Australian designed and manufactured to the highest standard.
Dimensions
The Weave pendant is available in two sizes:
Medium: 600 mm (diameter)
Large: 800 mm (diameter).
Custom sizes are available on request. Please contact us to discuss sizes and pricing.
Specifications
Available finishes:
Natural bamboo
Darkened bamboo.
e27 Edison Screw lamp holder. BAMBOO Environmental Certification – GBCA Certified – GECA Certified – Greentag compliant.
Delivery
The quoted price does not include delivery. Please feel welcome to contact us prior to ordering for an estimate of shipping costs. We can invoice you separately with the price for shipping.
Lead time
Please contact us for current lead times. Stock is held for some products, however a 4–6 week lead time can apply.
Note
No light bulb is provided.
Pendant must be installed by a certified electrician.